A new division has been created at Boccetti for the design and production of a wide range of machines and plants to support the following industrial processes:
Cleaning
Cleaning machines and systems are designed to respond to the various industrial cleaning requirements of mechanical parts with chemical and/or particle contamination.
Depending on the dimensions of the mechanical parts to be cleaned, their surface contamination, the type of cleaning to be conducted (inter-operational or finishing) and the productivity required, we assist the customer in identifying the most suitable cleaning process and in choosing the type of machine to be used.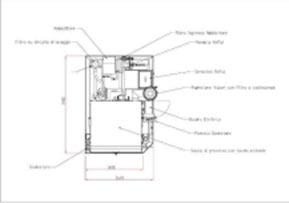 ---
Non-Destructive Testing
The non-destructive testing lines, executed through the use of fluorescent penetrant liquids (FPI lines), are made "manual feed" and characterised by intermediate inspection stations (partially obscured) with a final control cabin.
The "complete standard" FPI line, independently from the useful dimensions of each process station, foresees the following sequence:
Application of penetrating fluid by electrostatic spraying;
Application of penetrating fluid by immersion (by-passable using an overhead roller conveyor);
Pre-washing by spraying with softened water;
Emulsification by immersion;
Final washing by spraying with demineralised water;
Inspection and possible retouching;
Kiln drying;
Application of powder developer by electrostatic spraying;
Blowing off of excess powder with filtered and dried air;
Checking with Wood's lamps.
---
Testing
The machines and equipment belonging to the "Testing" department have been developed to provide solutions to the various control actions to be carried out on specific mechanical parts.
The control tasks can range from simple investigations into the "cleanliness" of mechanical parts subjected to cleaning operations (Cleaning Control Booths) to accurate verification of their compliance with the characteristic physical quantities for which they were designed, such as pressures and flow rates (Test Benches proper).
The principle of "maximum customisation" applies to all the machines and systems in this division, permitting total configuration of the product according to the customer's specific requirements.
This peculiarity stems from decades of design and production experience "on commission", which has enabled the standardisation of specific technical solutions, easily parameterised and adopted from case to case, in the various customisations, with the "measurements" actually required.